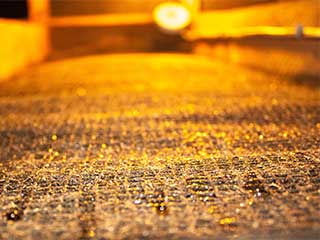 Any Foul Odors
Should you notice any bad smells, particularly if you're near the entrance to an attic or crawl space, this isn't something to be overlooked! These two areas are prime spots for mold to spread, especially if they aren't cleaned out periodically. Between the debris and the possibility of a water leak without your knowledge, mold can take over in no time and cause that nasty mildew smell.
Green Or Brown Discoloration
If you decide to check out your attic or crawl space and see that the wood or anything else has dark color stains, this is likely mold eating away at it. You may even see it inside your home in general if it's spread enough, particularly around any areas where there could be water present, creating the right environment for it to grow.
Aggravated Allergy Symptoms
Allergies or any other kinds of troubles with breathing being agitated indoors are an indication that there's something in the air triggering them, and that something could be mold spores. They can be extremely dangerous if they're inhaled, especially when it comes to children and the elderly, so having your house treated for mold quickly is vital for helping to keep them safe.
Problems With Water Leaks
If you're aware of a leak in the roof, or any other kind of issue concerning moisture no matter how small, this can easily cause mold to sprout up. While it may not be noticeable quite yet, the groundwork may have been put down for it to begin to crop up. You can take preventative measures by having a professional check out the area and treat it, which will help stop mold in its tracks rather than letting it spread.
Sudden Health Issues
Have you suddenly had trouble with dizziness, headaches, struggling to concentrate, or other such problems? This could be an indication that there's enough mold present that it's begun to poison you over time from exposure. Any neurological symptoms such as these can indicate mold poisoning, so to be safe it's best to have your home professionally looked at to see if mold treatment is needed.